This code is a VB implementation of the high precision multimedia timer which can be found in the winmm.dll.
I wrote this code because of the same reason I developed the multiple undo class: I wanted to have a smart solution that can be easily added to different VB projects, that doesn't clutter the code, that doesn't let depend my project on another custom OCX or DLL file and that is object oriented as much as possible.

The demo project's intenion is NOT to show that the multimedia timer is or is not more accurate than the standard VB timer. It's primary task is just to show how to use the timer class and how to instantiate and handle more than one timer object.
News in this release:
Timer moved from class to usercontrol, works quit similar to standard timer control now.
Shouldn't crash any longer in compiled EXE files.
Changed some methods and properties.
Added Event support.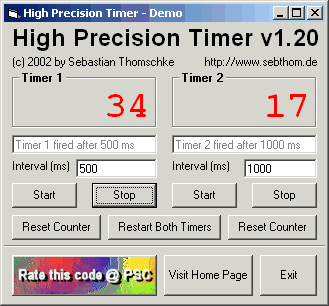 SourceCode @ github.com