MyPad is a very compact PHP Editor. I developed this editor because I could not find a suitable PHP Editor with a Single Document Interface.
The Editor I was searching for should look and behave like Notepad, but should be able to colorize PHP source code.
Such a small Editor can be perfectly used in conjunction with a Norton Commander like filemanager.

News in release 1.1.6:
~ colors for colorizing slightly changed
~ added "convert selected to lower/uppercase"
~ when trying to open an already open file MyPad should switch to the open instance, this behaviour was buggy in previous releases
~ using the latest version of InnoSetup reduced the setup file by about 550kB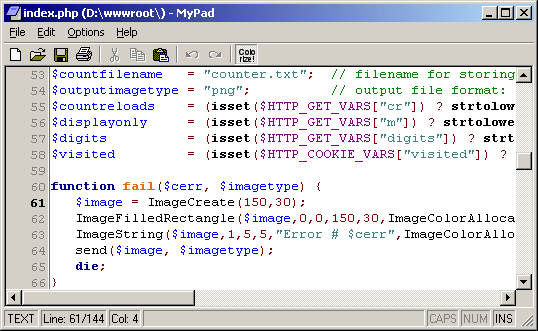 MyPad_Setup.exe (1.6 MiB, 2,809 hits)
Source Code @ Planet Source Code