[lang_en]A friend of mine asked me about how to let excel periodically update some worksheets.
So the first thing I did was searching the web for a solution in Visual Basic for Applications. But the only one I found was to use a 3rd party ActiveX timer control which you have to place onto a userform. Then I found the VBA command "Application.onTime" and had an idea.
Here is my solution only utilizing the VBA onTime command. No need for ActiveX control or any other 3rd party module.[/lang_en]
[lang_de]Ein Freund hatte mich einmal gefragt, ob es nicht irgendwie möglich sei, einzelne Arbeitsblätter in Excel automatisch periodisch aktualisieren zu lassen.
Das erste was ich dann tat, war im Internet nach einer entspr. Lösung in Visual Basic for Applications zu suchen, aber das einzige was ich fand, war ein ActiveX Timer Control eines Drittanbieters, welches man auf einer Userform platzieren muß. Dann fand ich zufällig den VBA Befehl "Application.onTime" und hatte eine Idee.
Hier ist nun meine Lösung, welche nur das VBA onTime Kommando verwendet. Kein ActiveX Control oder irgend ein anderes 3rd-Party Modul sind hierfür notwendig.[/lang_de]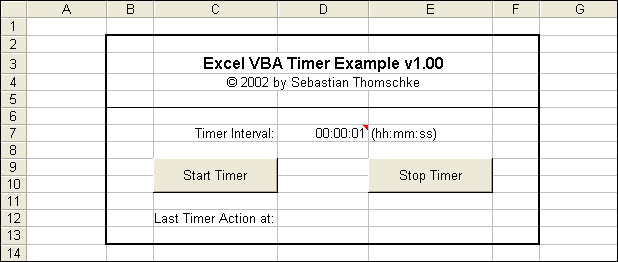 ExcelTimerExample_1.0.1.zip (10.9 KiB, 22,001 hits)